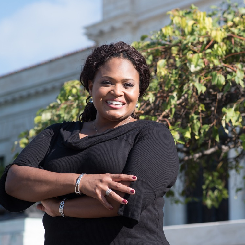 Cynthia Barnes is recognized as one of the most influential Women in Sales leaders and professional development experts in the world. The former Top 1% saleswoman founded the National Association of Women Sales Professionals in 2016, the nations only organization dedicated to helping women sales professionals reach the Top 1% and Dance on the Glass Ceiling.
Cynthias insights and unique understanding of what it takes for women sales professionals to excel have made her a sought-after expert on women-centric sales training and coaching, having appeared in over 250 major media outlets around the nation including appearances in the Wall Street Journal. She is recognized by Sales Hacker one of the 35 Most Influential Women in Sales. She also serves on the Board of Directors for the National Sales Network Detroit Chapter.
Although her commitment to promoting Women in Sales takes her around the world, Cynthia is proud to call Metro Detroit home.
IWD 2019 Speakers