The WIT Network is onboarding a new membership management platform to better serve our global membership. We are working through the new member log in details along with new memberships. You may see a few pages that are still under construction. Thanks for your patience as we work through this new amazing platform.
Who We Are
The WIT Network is a global community of professional women and men who:
Encourage all women and girls to study STEM and pursue careers in the technology sector;
Enable more women to attain leadership positions and career advancement;
Support more female entrepreneurs to start and develop profitable businesses.
Join Now
Who You Are
People join us for different reasons. If you want to make a difference in the gender equality conversation, if you want to start, grow or expand your career, if you want to be inspired and supported by a community of professionals at all stages in their careers who get excited by your success, then consider joining us today. We have lots of programs and webinars to support your journey.
What's Happening
A Little More About Us
The WIT Network is made of many smaller communities across the world that connect locally to support women who work in the world of technology. Currently we have over 80 communities in more than 30 countries.
Community Map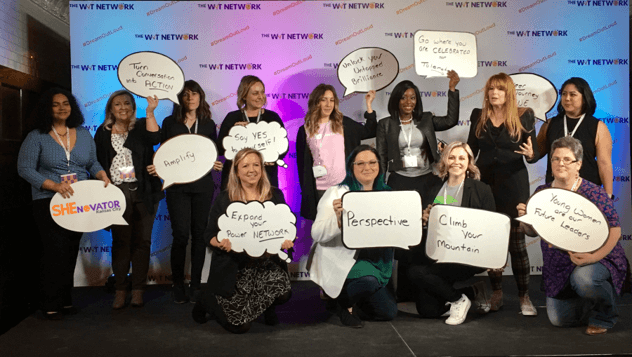 What's Happening
We offer programs, mentorship and inspiration for all ages and stages in a women's career in tech. From our SHEnovator Junior Board Program focused on young women 14-18 years old, women returning to the workforce through to women who aspire to grow their careers or be selected to be on a board of directors, The WIT Network supports you through your journey.
What's Happening
Join Now
When you join The WIT Network, you join both globally and locally. That means you can participate in all of our global programs, your local community events or events in other communities should you be traveling. We like to say we are a network of friends and business colleagues that you just haven't met yet!
Join Now
Inclusivity. Unity. Respect.
Passionate about diversity we have created an inclusive environment where everybody feels welcome and valued. This means treating each individual and their ideas with respect. We understand that not all women across the world will face the same challenges. That's why were committed to supporting women from all nations and raising awareness of issues they are facing - with local teams growing and managing their individual communities. We also understand that bias and discrimination aren't just confined to gender. We aim to tackle inequality in a way that includes people from all backgrounds.
Community. Support. Charity.
"We cannot all succeed when half of us are held back." - Malala Yousafzai, Activist for female education and youngest-ever Nobel Prize laureate.
We believe that our greatest asset is our strength as a community of women who support and teach each other. United, we can challenge inequality in every corner of the world. Each of us has the power to change lives and we are committed to making a positive impact by giving back to charities that reflect our belief of improving the lives of others.
Empowerment. Education. Awareness.
It's a fact that women are underrepresented at every level in technology. We are changing this by empowering women and girls everywhere to pursue and advance careers in IT. It starts with education and creating awareness, from showcasing female role models and amazing tech jobs to providing mentorship programmes that help develop careers and bridge the gender-gap into management.
Integrity. Honesty. Transparency.
We believe that the best way to achieve success is to be as open as possible with our work and what we're trying to accomplish.
By holding each other accountable for our actions, we ensure the global community is wholly empowered to serve its membership.