HER Story: Susan Klute - The WIT Network Leadership Spotlight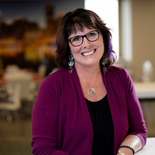 Sr. Manager - Sales Development & Customer Success @ Jabra
Susan Klute is the Sr. Manager for the Sales Development and Customer Success Team at Jabra and has recently taken on a leadership role in The WIT Network organizing and leading the mentoring circles program. In this interview, Susan shares her vision for the program and the experiences she's had that make her ideal for this position.
1) What do you do at Jabra and why do you love it?
I manage our live chat team, the SDR's who qualify leads for our sellers, the new account development team who are responsible for finding and engaging new customers in the large enterprise market and our administrative support for the end user team.
It's my job to ensure my teams have the tools, training and support they require to excel in their roles and exceed their goals. I collaborate with other leaders at Jabra on new ideas and processes to continue evolving and growing in our industry. I am passionate about people and business development so this is the perfect position for me.
2) When you were growing up, what did you want to be?
When I was growing up, I wanted to follow in my own mother's footsteps and live a simple life as a wife and mother. Unfortunately, while my dream to become a mother came true, our finances could not afford me to be a stay-at-home mom.
3) How did you end up in tech?
I re-entered the workforce as an admin. I eventually grew into a sales role and joined a technology distributor, Ingram Micro during their boom in 1993. I knew nothing about technology and was completely terrified but through their extensive training program and on the job experience, I challenged myself to overcome my fear and absorb everything I could.
I grew from entry level sales associate to sales management at Ingram and four years ago, I was lured to the manufacturer side of the business to manage the Public Sector team for Jabra. I have evolved since joining the company, taken on different responsibilities, and have enjoyed seeing so many different sides of our business while working with various stakeholders and processes throughout our organization.
4) What does The WIT Network mean to you?
The WIT Network has changed my life in many ways. I was in the first Athena Emerging Leaders class in 2019 and the knowledge I gained from it and from the incredible women I met through it, inspired me to take an active role in the organization.
When I was growing up, girls were meant to be in the background supporting their men, personally and/or professionally. It took me years to build enough confidence to step out of the shadows and become a leader on my own.
When I had my daughters, I wanted them to have different options. Instead of settling for positions just to earn a paycheck, I challenged them to be leaders on their own and to follow their dreams, courageously and fiercely. I am proud to say that they have. I want to inspire other women to do the same. We are truly better together, and I am committed to doing my small part to bring this organization to more women so they too can experience the elevation that I have since becoming a member.
5) What drew you to your new leadership role organizing the mentoring circles? What does your role entail? What do you hope to accomplish?
I am passionate about lifting others up to follow their dreams. In 2008, I received my certificate as a life coach. My desire was to use the skills I learned in my training to help others, especially women, to be the best they can be and to follow their dreams fearlessly.
I'm excited to have been selected to organize and lead the global mentoring circles. I took some time to think about what women might be looking for. I've decided to try three tracks for each circle: leadership, wellness and a time relevant topic. We are scheduling them weekly over a month at different times to accommodate different time zones. They will be quarterly: February, May, September, and November.
Since this is a new program for The WIT Network, we are continuously testing and adapting to ensure it is what women are looking for. I would love to see connections made in these circles between women so that they may build relationships outside of this format.
Mentors can be life changing. The beauty is that mentors see you through their eyes, not your own. I was brought up in an overly critical environment. I lacked the self confidence required to step out of the shadows until I met a woman I admired deeply. We became friends, and she inspired me to see myself differently (and differently than how my family saw me).
When we look inside and see who we truly are, that's when the magic happens. I'd like that for other women – to see how truly amazing they are and to use their gifts to light up the world.
6) Do you have any mentors that you want to give a shoutout to for being agents of change?
I am at Jabra because of two of my most treasured mentors: Kelly Nagel, our president and Cheryle Walline, VP of Channel and Distribution. We three worked together previously at Ingram Micro. They have both busted through the glass ceiling in their careers, growing within themselves but also always looking to inspire and develop those around them to do the same. Failure is not an option! When they see something that isn't working, they evaluate it and make the necessary changes to institute improvements to keep us moving forward.
Both Kelly and Cheryle are inclusive with their teams and show us all how valuable we really are. They are shining examples of the Athena principles and always encourage others to share their ideas openly and confidently. Jabra is committed as a Champion Sponsor of The WIT Network because we are truly better together.
Jabra also sponsored the recent eBook We're Listening: An Inspiring
Resource to Support Women Working Remotely in collaboration with The WIT Network. Because, like The WIT Network, Jabra wants to help women reach their fullest potential even in the most challenging times.
7) Is there anything else you want to add? Just that I am truly excited about what 2021 will bring for me personally and for The WIT Network mentoring circle program.
For more information about The WIT Network mentoring circle program, click here.