HER Story: Sara Bliss - Be Brave, Turn the Page!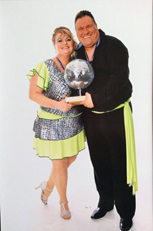 In life we can't control everything. We don't choose our family; we all begin life with little choice. Our childhood is hugely dictated by the family into which we are born, followed by the people and life events which follow – and our response.
I was born into a loving family and dreamt of being a ballet dancer, supported to thrive in private dance schools and shows. To this day I still stand like a dancer, I can still do the splits. There's still a little girl inside who loves to dance. But as much as we don't choose our start to life, we don't choose when those we love, leave.
At the tender age of five, my dad passed away, and at 16, my mum sadly died. As with any loss this close, it ripples across your life and the landscape changes overnight. My beloved dance school became a youth training scheme and before I knew it, I was working in the technology industry, with data wheels and back up servers, bigger than cars.
In hindsight, both my parents and dance taught me life skills that were invaluable:
One performance is the result of years of commitment, rehearsal, practice, conditioning, passion, sweat and tears.
Your success is down to not only your own commitment but those who dance with you, coach you, transport you, treat you, dress you and believe in you.
Your ability to communicate and express emotion has the power to transcend all boundaries of gender, race, and sexuality.
Life isn't fair. You are not always selected. An injury can strip a dancer of their dreams in one false move. And many do not have the support or means to ever chase their dreams as a child.
The response to a fall or injury dictates the recovery time.
Count your blessings, enjoy the moment, and pay it forward.
These lessons have served me well. Life hasn't been linear, professionally or personally. I've loved, lost and loved again. I've made mistakes. I've raised two beautiful children and supported my stepdaughter. I'm a grandma and my grandchildren fill my heart with joy. And alongside my wonderful (slightly disgruntled) husband, we have won the Glitter Ball Trophy in the local Strictly Grand Finale in support of Mary Ann Hospice.
The young girl in the youth training scheme, sporting an 80s perm and blue eyeliner, moved from Receptionist to Customer Service, Finance Manager to Business Improvement Manager, Projects Manager to Projects Director. Today, my role is Chief Operating Officer at Seaton Partners, a Microsoft Gold Partner, delivering Dynamics 365 implementations in Finance and Supply Chain. And I sit on the board of The WIT Network with the purpose of encouraging woman and girls into a career in tech.
I've been fortunate to live through a number of chapters in life. To have hindsight and to be able to support others because of this. We all must turn a page sometimes, be brave, dig deep. Support networks and role models are important in these moments. Together, we need to ensure that women and girls are encouraged into roles which they may have never considered themselves but with the right environment, support, and mentality they will thrive.
So next time you are about to turn a new page, remember, it's not always about how talented you are but who you surround yourself with and how much passion you have to drive forwards. And if you're in need of encouragement or advice, The WIT Network community is here to lean into, or you can always drop me a message on LinkedIn.
Sara Bliss