Up your game: Invest some time upskilling yourself with these The WIT Network resources
The beautiful thing about learning is nobody can take it away from you.
– B.B. King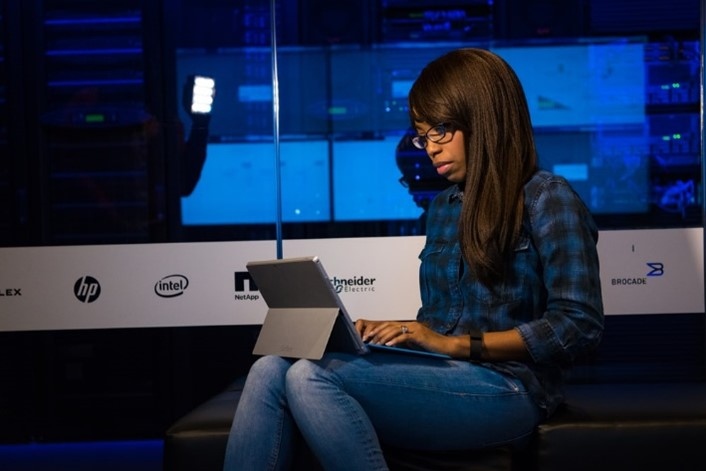 There are many ways to upskill with The WIT Network. Some, such as the Emerging Leaders Program or the Tech Track are formal. However, we offer lots of other on-demand content that will help you polish your skills, grow your confidence, and get inspired. Whether you are just starting out, readying yourself to move up the ladder, or are already a leader – we have something for you.
For those on the hunt for a new job
Looking for a new role? Before you put yourself out there, invest some time upskilling so you can put your absolute best foot forward. The great news is, as a member you have access to excellent webinars that are packed with sound advice.

Here are some webinars we recommend for job hunters:
Polish Your Communication Style
Everything we do reveals something of what we are feeling and thinking, even on zoom.
Briony Glassco, an expert executive presence coach, invites us into her coaching studio to help us polish our authentic communication style and show us how simple tweaks can have a massive impact.
It's Your Story. Tell it Well!
When it comes to telling your own personal story, how do you reach the perfect balance? Too formal and you risk coming across as cold and uncaring – too humorous or emotional and people may not take you seriously. This session with master storyteller Julie Simpson helps you find your balance.
What You Don't know about Networking and LinkedIn
Join Dana Manciagli, founder of Job Search Master Class®, author of Cut the Crap™, Get a Job! and a globally recognized career and networking expert, as she walks you through the dos and don'ts and techniques you need to rock Linkedin and build your professional network.
Congratulations! You made it to the interview stage of the hiring process! Now what? You need to crush every phone, video, and face-to-face interview before getting an offer. This webinar with Dana Manciagli tells you how to do that.
Personal Branding: Telling Your Story Online
Your career and your reputation mean everything to you. But if you are like many busy professionals, you spend more time doing the things that make you great rather than attracting others through a consistent online platform and message. Gail Mercer-MacKay helps you boost your LinkedIn presence so that you get noticed.
The Art, Science and Sport of Sales – A Critical Skill Every Woman Needs
Whether you are a business owner, relatively new to sales or just want to learn how to do a better job getting your idea across in a board room, this session is for you. This workshop led by Corinne Sharp provides you with tools to help you learn, develop and practice selling skills so you can sell your solution, company or your personal brand.
For those who want to elevate their leadership
Feeling stagnant in the role you are in, but don't know where you should be headed? Aspire to be a better leader? Or feeling overwhelmed by leadership responsibilities? We have some great webinars that shed light on leadership.
Here are some webinars we recommend for current and future leaders:
Navigating the Storm – How Purpose Builds Resilience in a Time of Reinvention
Now is the time to pause, explore and reconnect to your purpose and empower yourself to make changes that will help you personally as you prepare to serve at higher levels in your team, organization, family and communities. Laura Ciel helps you explore your own purpose and how to align your work and your life to your purpose.
Growing Your Career with Intention – 7 Unique Ways to Grow your Career
Gavriella Schuster developed a framework over 15 years ago to help her grow her career based on her own experiences. During this webinar, she shares her framework. Sometimes we can get stuck in a rut thinking the only way to advance our career – and further our personal development – is through vertical promotions. While that's logical, Gavriella found that is not always the case.
Lessons on Taking Command of your Career
Aliesha Pulliam discusses her career journey from living and working on a military aircraft carrier to traveling with the President of the United States to managing Executive Communications at Microsoft. Her story will teach you about how to take control of your career.
Cracking the Confidence Code: From Perfectionism to Peak Performance
Do you sometimes suffer from Impostor Syndrome? Is perfectionism holding you back from achieving the career of your dreams? If you answered yes to either of these questions, then you need to watch this webinar with Pattie Grimm as she addresses the top challenges holding women back from kicking the glass ceiling and being the brave, bold and brilliant leader they need to be to succeed today.
Self Care and Self Awareness for the 21st Century Leader
Now more than ever before, the demands on leaders in the public sector are physically, mentally, emotionally and professionally demanding. To perform at one's optimal level, one must develop specific strategies to protect leadership capacity as well as remain sensitive and responsive to the needs of one's employees. Dr. Mary Hemphill-Joseph shares her wisdom on developing and sustaining positive self-care habits and creating a culture of confidentiality and trust around self-care issues.
This is only a sampling of the webinars stored in our members-only library. Log in to see what else you can learn and enjoy spending some time invested in yourself.