Blog: Stop hesitating, start networking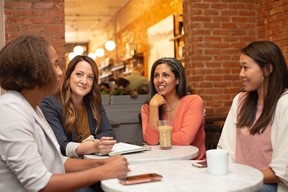 Stop hesitating, start networking
In the technology industry, women often face barriers to networking. Studies have found that a lack of valuable networks contributes to the gender gap.[i] A critical part of a career advancement strategy is developing a powerful network – not just for more career ins and opportunities, but for informal mentorship and support as well.
85% of positions are filled through networking
70% of people found a job through connections in a company
46% of people got their current position through

networking

[ii]

80% of professionals

believe that career success can be elevated through

professional networking

[iii]
Natasha Abajian conducted a study that found that aspirational professional women benefit from a better understanding of how to build, maintain, and use their social capital to succeed in reaching the top. She said:
Access to social networks typically differs for men and for women. Usually, women have less access to networks typically associated with career progression. These networks or 'who you know and who knows you' are responsible for a large percentage of career progression, so limited access could be a barrier to women's opportunities.[iv]
Stop hesitating, start networking
Perhaps it's the imposter syndrome that plagues so many of us, or our lack of time or confidence, commitment to other priorities, or feelings of exclusion; women don't tend to network with the same voracity as men.
Networking is a lot like nutrition and fitness: we know what to do, the hard part is making it a top priority, says Herminia Ibarra, an organizational behaviour professor at London Business School. We need to make networking a priority and invest time in ourselves.
Many women find traditional male-dominated networking situations intimidating or uncomfortable. Research shows it's also not as effective for women. Men and women have very different brains, and they do network differently, says Helen Fisher, Ph.D., a biological anthropologist at Rutgers University. The male brain is more compartmentalized; they get straight to the point; they know the goal. They tend to decide right away, with little to no small talk, whether they will work with you or not. While women focus on building long-term personal connections or friendships. Women often make contacts through people they know and tend to form smaller, deeper networks based on trust.[v]

Research also showed that women who form a strong inner circle with other women who can share career advice are nearly three times more likely to get a better job than women who don't have that support system. For women to advance professionally, we need to exploit our one true advantage—a strong female support group.[vi]
As Brene Brown says, "Courage starts with showing up and letting ourselves be seen." This is why The WIT Network offers so many opportunities for women to gather both formally and informally and meet, share, and network. We want you to feel comfortable and safe showing up and being seen.
Laurie Dalton White, founder of Conferences for Women, says:
Something special happens when you see that you are not alone. Making connections and building relationships with other attendees and speakers helps women form an understanding of their worth, and then they learn strategies to ask for promotions, seek fair pay and even become mentors to others.[vii]
Commit to building your network and engaging
Making connections and engaging with women and allies will help you succeed in this industry.
The WIT Network provides ample opportunities for women and allies to network in smaller group settings. Do yourself and your career a favor – pick one WIT networking event to attend and show up ready to connect and engage. Commit to just one and see what happens.
Check out The WIT Network What's Happening page for a list of local networking events, upcoming WIT & Wine Wednesdays, and Mentoring Circles.