Back to Blogs
02/21/2019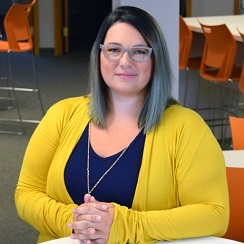 Growing up, if someone would have called me a nerd, I would have been distraught. Fast forward to today and I wear my nerdiness like a medal of honor. My journey towards acceptance of my nerdom is really the story of my journey into and through the tech industry.
This is my Herstory.
My love for tech started at a pretty young age. I remember begging my parents to buy a Gateway computer. When I got my beloved Holstein-cow-printed box, I promptly followed all assembly and installation requirements. I then powered up Microsoft Word to create my first "Do Not Disturb" bedroom door sign which of course was written in Comic Sans.
My interest in technology continued to build into middle school but then I started hitting roadblocks. After expressing my interest in technology to a school counselor, I was discouraged from taking Introduction to Coding classes because I didn't excel at math. Instead, I was put into an art class.
I spent years going through college and entering the workforce searching for the fulfillment and excitement my 10-year-old self found in that cow-printed box. Throughout those years, my inner nerd felt like it was stuck on an island with no WiFi. Until I found the courage to chase the dream that had been there all along and pursue a career as a developer.
My story is certainly not unique. Many young girls who express an early interest in technology encounter similar roadblocks. In today's STEM-focused world, the roadblocks are more likely to come from peer discouragement or a lack of or restricted access to technology than from the educational system. A recent study from the Girl Scout Research Institute found that young girls are most interested in STEM-related careers during middle school. This number enters a steep decline as girls move toward high school.
Studies like these illustrate why an organization like The WIT Network, which displays a sincere commitment to engaging young girls through programs like SHEnovators, is so important for changing the diversity landscape in the tech industry.
But what really makes The WIT Network unique is that supporting women entering into the tech industry is just the first step. Once you are in the tech industry, The WIT Network provides an audacious support network that is willing to first walk beside you as you define your goals and then run with you as you carve out your piece of tomorrow.
The WIT Network has played a big part in my Herstory. By connecting with their global community of thought leaders and entrepreneurs, I have morphed a love of coding into a platform for advocating for and advancing the female voice in our industry.
I invite you to come contribute your voice to a global discussion as we celebrate our inaugural International Women's Day conference in Kansas City on March 8th.
Register today!